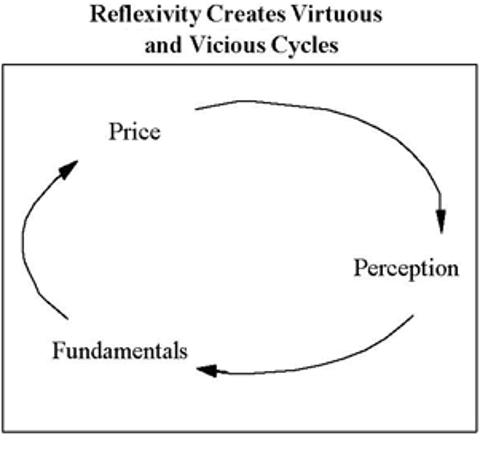 George Soros, Reflexivity and Market Reversals
"No matter how complex, the underlying basis of almost every economic theory is that markets search for prices that create a balance between supply and demand. Consequently, when all participants act rationally, free markets and the economy are stable.
George Soros does not agree.
His theory of reflexivity suggests that, sometimes, markets are inherently unstable. The underlying forces create negative feedback loops that cause prices to diverge wildly from equilibrium. Reflexivity helps explain why this happens and is the philosophy that he uses to identify these unstable environments. When prices move to the extreme, he bets on a reversal. As evidenced by his investment track record, Mr. Soros has applied his theories with great success.
In this paper, we examine the ideas behind reflexivity and discuss how they result in parabolic price patterns. The belief that markets simply tend to overshoot in search for equilibrium is inadequate. When destabilizing forces take hold, businesses, industries and financial markets move along a relentless path away from equilibrium, sometimes creating a virtuous spiral of prosperity, and other times a vicious cycle of economic destruction.
...
Mr. Soros calls it his life's work, and has written several books1,2 on the topic. Even so, he admits to receiving as much criticism as praise for his theories on the economy and financial markets. In a 1994 speech3, Soros attempted to explain his concept of reflexivity in the following statement,
"There is an active relationship between thinking and reality, as well as the passive one which is the only one recognized by natural science and, by way of false analogy, also by economic theory. I call the passive relationship the "cognitive function" and the active relationship the "participating function," and the interaction between the two functions I call "reflexivity."

Reflexivity is, in effect, a two-way feedback mechanism in which reality helps shape the participants' thinking and the participants' thinking helps shape reality in an unending process…"
Wow. Clearly his talents as a practitioner are superior to his ability to explain his ideas, and enlighten others. Our goal in this paper is to simplify and clarify. We will even be so bold as to draw some conclusions about the current market environment based on reflexivity."
http://seekingalpha.com/article/126165-george-soros-reflexivity-and-market-reversals
Adding a bit more context from Alan Murray's piece:
"Even the best-managed companies aren't protected from this destructive clash between whirlwind change and corporate inertia. When I asked members of The Wall Street Journal's CEO Council, a group of chief executives who meet each year to deliberate on issues of public interest, to name the most influential business book they had read, many cited Clayton Christensen's "The Innovator's Dilemma." That book documents how market-leading companies have missed game-changing transformations in industry after industry—computers (mainframes to PCs), telephony (landline to mobile), photography (film to digital), stock markets (floor to online)—not because of "bad" management, but because they followed the dictates of "good" management. They listened closely to their customers. They carefully studied market trends. They allocated capital to the innovations that promised the largest returns. And in the process, they missed disruptive innovations that opened up new customers and markets for lower-margin, blockbuster products."
Information is being generated at ever increasing speeds. Executives hoping to draw lessons from those profiled by Christensen would do well to realize that thought leadership is all around them. Our Foresight platform facilitates innovation management by extracting collective thought leadership from throughout (and, if the business case requires it, beyond) the corporation.
"Information gathering also needs to be broader and more inclusive. Former Procter & Gamble CEO A.G. Lafley's demand that the company cull product ideas from outside the company, rather than developing them all from within, was a step in this direction. (It even has a website for submitting ideas.) The new model will have to go further. New mechanisms will have to be created for harnessing the "wisdom of crowds." Feedback loops will need to be built that allow products and services to constantly evolve in response to new information. Change, innovation, adaptability, all have to become orders of the day."
I wonder if when civilizations advance the conception of "utility" and its voluntary exchange would also tend to shift from more concrete to more abstract.